11986: Astoria miniature safety: black hard rubber ringtop with Italian 18K gold filled filigree overlay, 7.8 cm long, Astoria-marked 14K nib; true filigree work in this case, with beaded wire, excellent quality, must be examined closely for full appreciation. Seals have not been replaced, not ink-tight.
DATE: c. 1925 • CONDITION: fine-exc* • NIB: fine semiflex • $1250

---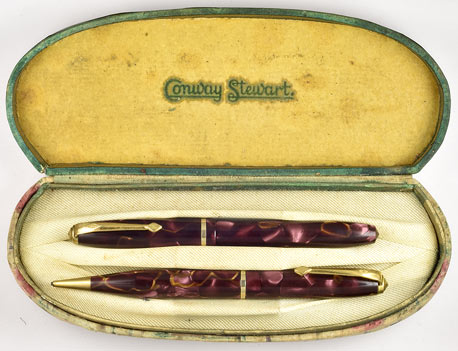 15543: Conway Stewart 550 Dinkie set in box: gold-veined red pearl miniature lever-filler, 10.3 cm long, gold plated trim, matching twist-action 25 pencil uses 1.1 mm lead. Nib opens with only slight pressure, not for the heavy-handed. Lovely material is casein-based, should be kept away from water.
DATE: c. 1955 • CONDITION: fine-exc • NIB: medium flex • $225

---

15145: Parker Vest Pocket Duofold Deluxe: scarce miniature ringtop button-filler, jade celluloid, 9 cm long, gold filled trim, triple cap band, clean condition with better than average color, sharp imprints; nib has the very beginning of a stress line from the vent hole, should be stable with normal use.
DATE: c. 1934 • CONDITION: fine* • NIB: medium fine • $250

---
14361: Waterman 000 "World's Smallest": extremely rare miniature black hard rubber safety, 5.15 cm long, fully functional with retracting 14K gold nib; crisp glossy unfaded surfaces, bold barrel imprint. The usual form of Waterman's "World's Smallest" is a slip-cap eyedropper, which was described in internal company literature as a trade stimulator and novelty for dealers and salesmen. These pens, not intended for public sale, are rare enough, but the safety version is easily ten times rarer and to our knowledge is entirely undocumented in extant company publications. This is the first example we have offered for sale in over 25 years.
DATE: c. 1912 • CONDITION: near mint • NIB: fine • $4500

---

9970: unmarked safety: miniature black hard rubber retracting-nib German safety, 8.35 cm long, engine-turned silver overlay marked only "900" at the center of the cap crown; despite size, a fully functional pen, cork has been replaced, 14K gold warranted nib has considerably flex, but due to dimensions line width variation is limited.
DATE: c. 1920 • CONDITION: fine-exc • NIB: medium fine flex • $365

---
---