11986: Astoria miniature safety: black hard rubber ringtop with Italian 18K gold filled filigree overlay, 7.8 cm long, Astoria-marked 14K nib; true filigree work in this case, with beaded wire, excellent quality, must be examined closely for full appreciation. Seals have not been replaced, not ink-tight.
DATE: c. 1925 • CONDITION: fine-exc* • NIB: fine semiflex • $1250

---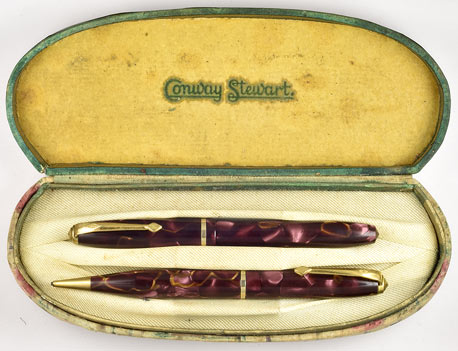 15543: Conway Stewart 550 Dinkie set in box: gold-veined red pearl miniature lever-filler, 10.3 cm long, gold plated trim, matching twist-action 25 pencil uses 1.1 mm lead. Nib opens with only slight pressure, not for the heavy-handed. Lovely material is casein-based, should be kept away from water.
DATE: c. 1955 • CONDITION: fine-exc • NIB: medium flex • $225

---

15145: Parker Vest Pocket Duofold Deluxe: scarce miniature ringtop button-filler, jade celluloid, 9 cm long, gold filled trim, triple cap band, clean condition with better than average color, sharp imprints; nib has the very beginning of a stress line from the vent hole, should be stable with normal use.
DATE: c. 1934 • CONDITION: fine* • NIB: medium fine • $250

---

9970: unmarked safety: miniature black hard rubber retracting-nib German safety, 8.35 cm long, engine-turned silver overlay marked only "900" at the center of the cap crown; despite size, a fully functional pen, cork has been replaced, 14K gold warranted nib has considerably flex, but due to dimensions line width variation is limited.
DATE: c. 1920 • CONDITION: fine-exc • NIB: medium fine flex • $365

---
---