---
13747: Esterbrook Relief 314: mottled hard rubber slip-cap eyedropper-filler, 13.3 cm long, fully Esterbrook-marked, manufactured by Wirt. Characteristic bottom-vented Wirt feed, pen shows no sign of ever having been filled, ventless gold Esterbrook-marked nib has one superficial nick or tool mark on the top right tine (see detail).
DATE: c. 1910 • CONDITION: near mint* • NIB: medium oblique italic • $950

---

14721: Esterbrook P repeater pencil: black, 12.1 cm long, stainless steel trim, uses 1.1 mm lead, strong barrel imprint, a few light scratches, fully functional and much less common than the matching "Dollar Pen".
DATE: c. 1939 • CONDITION: fine-exc • $90

---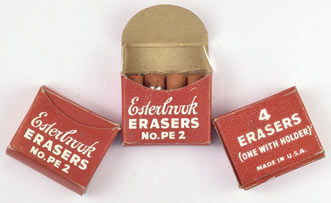 14143: Esterbrook pencil erasers: original box of four (4) erasers, one with reusable metal ferrule holder. Esterbrook No. PE2. Material is still rubbery, but sold more for display, not guaranteed to be in optimal condition for use, light storage wear to packaging, several boxes available.
DATE: c. 1950 • CONDITION: near mint • $10

---
14802: Esterbrook Safari: black cartridge-filler, 13.75 cm long, chrome plated cap and trim, #2668 nib, flamboyant barrel personalization, patch of plating loss next to end of clip (see detail). Comes with two empty Esterbrook cartridges, which can be refilled and reused.
DATE: c. 1960 • CONDITION: VG-fine • NIB: medium • $40

---
---