Unless otherwise noted, the items listed here are new old stock (brand new older merchandise, often factory closeouts).
Most items do not come with boxes, instructions, or original packaging. If packaging is included, it will be mentioned in the description. All items are guaranteed to be as represented; quantities may be limited.
---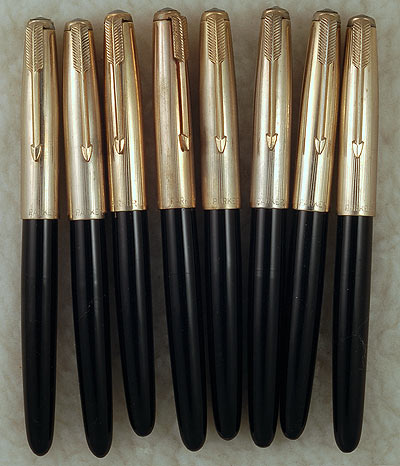 12721: unmarked Parker 51 counterfeit: black with metal cap marked "14KR GOLD FILLED" but with only a very thin gold wash; fully marked in imitation of a real 51, sac hardened, will need to be replaced; plated nib, cap jewel is opaque silver in color. Probably made in Japan, quality is low but much historical interest. Unused with shop wear, eight available.
DATE: c. 1950 • CONDITION: fine-exc* • NIB: medium fine • $45

---
---