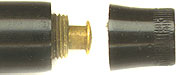 Among pens that use ink sacs, the button-filling mechanism is one of the most common. To fill, take off the blind cap, press the button, and place the nib in ink. Release the button to allow the sac to reinflate. Allow ten seconds for full inflation.
For those few button-fillers with internal breather tubes (Parker VS, for example), repeating the above procedure for a second time may fill the sac more completely. If no bubbles appear in the ink, however, this repetition is unnecessary.
Some Montblancs and other European pens have a special blind cap that doubles as a filler button, the so-called "push-knob filler". This knob unscrews but does not come off, and can then be pressed just like a conventional button.