---
Sacs & Seals -- Tools & Supplies -- Nibs -- Other Parts -- Accessories
---
There are many lead sizes and grades that we do not stock. If you do not find what you need here, check the offerings of our friends at the Legendary Lead Company.
Click here for more information on lead sizes for older pencils
---
Thick 1.1 mm lead for older mechanical pencils (interchangeable with leads nominally designated as .046", 1.18 mm, and 1.2 mm), as well as .9 mm (.036") lead in various grades and colors. These are recent production from Autopoint. Each tube contains 12 leads, each 1 3/8" long (3.5 cm). Black lead is $2 per tube; colored lead is $4.

---

VS (1.5 mm) lead, one of the most commonly-used sizes for 19th-century mechanical pencils but long out of production and very tough to find. Hardness is HB.
4 inches (10.2 cm) for $9.50 (five 2 cm pieces shown, though two pieces totalling four inches will be sent)
OUT OF STOCK
---

True 1.0 mm lead is not easy to find; as far as we can tell, all current-production pencil lead sold as 1.0mm is actually 0.9mm. This lead can be used in Victorian pencils and to refill early production Parker repeater pencil converters for ballpoints. It can also be adapted for use in 19th-century pencils made to use M (1.05 mm) lead -- one of the lead sizes most commonly used in that era and now virtually impossible to find. Our true 1.0 mm lead will fit most M nozzles a bit loosely. A thin coat of shellac will bring the lead right up to 1.05 mm, or it can be rubbed with beeswax to hold it in place.
Ten 6 cm pieces for $12

---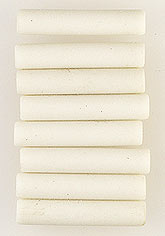 Synthetic erasers, 5mm diameter for slender 1920s Eversharps and many other vintage pencils. New production, each 1 inch long (2.5 cm).
Eight for $6

---

Synthetic eraser stock, 1/4 inch diameter for standard-size 1920s Eversharps and many other vintage American pencils. New production, each stick 3 5/8 inch long (9 cm long, 6.35mm diameter).
Three sticks for $6

---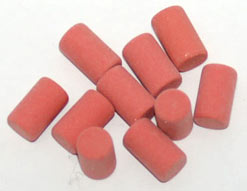 These rubber erasers are surplus stock from the Garland Pen Co. though they will fit many other mechanical pencils as well. They measure 7mm in diameter and are about 11.5mm long. We've got a lot of them, so generous discounts for quantity purchases.
Ten for $5, 20 for $8, 50 for $15, 100 for $25

---
For quantity discounts, put the item in the cart, adjust the quantity, then click Recalculate.
---