---
Sacs & Seals -- Tools & Supplies -- Pencil Lead -- Nibs -- Other Parts
---

Long-necked applicator, a superior filler for eyedropper-filling pens (the long, thin tube is a full 11.5 cm/4.5 inches long, reaches further into the barrel, filling it more neatly):
$0.50 each, ten for $2.50

---

Glass eyedropper, 10 cm long including black rubber bulb. Curved tip makes filling more convenient, reduces splattering. New manufacture, $2 each.

---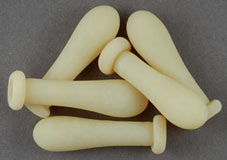 Do you have an eyedropper-filling pen in the box, complete with dropper? Chances are, the original rubber bulb has long since hardened and shattered. These latex bulbs are accurate and functional replacements, $1 each.

---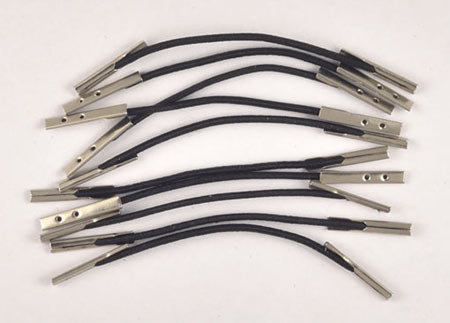 Every collector of vintage pens knows what happens to the elastic cords in vintage pen boxes after 50+ years. They lose their elasticity, stretch out, and no longer hold pens and pencils in place as they should. Replacing the original elastic using plain cord is a real pain, as it is not easy to lace it through the tiny holes in the covering of the pad. These American-made elastics make it easy, though: just like the originals, they come with metal toggles on each end. Lacing them through the holes in the pad is a breeze, and there's no fiddling around with having to tie off the ends. A real savings in both time and frustration!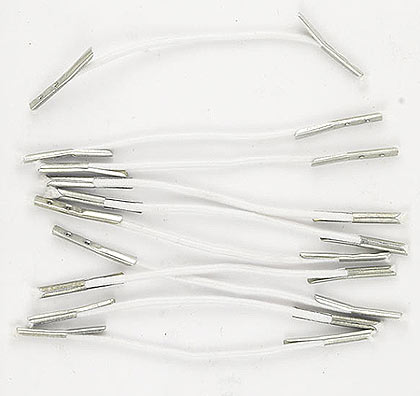 Elastics come in a choice of three colors: black, white, and pink. The black and white elastics are the correct length for pen/pencil sets, and can be shortened for use with single-pen boxes. The pink elastics (for 1950s Parker 51 boxes) are shorter, and two will be required for a box holding both pen and pencil.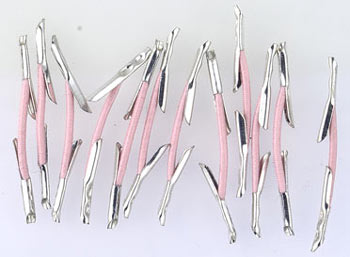 For boxes where the pad is glued down, we recommend prying it loose using a thin piece of plastic (an old credit card or a guitar pick will work well), inserting the plastic between the pad and the lower half of the box and working it all the way around until the pad comes free.
$8 for ten elastics
---
For quantity discounts, put the item in the cart, adjust the quantity, then click Recalculate.
---
Sacs & Seals -- Tools & Supplies -- Pencil Lead -- Nibs -- Other Parts