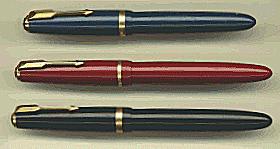 Parker kept the Duofold name alive longer in the UK and Europe than in the USA. Some of the sturdiest, best writing vintage pens around are the English and Danish made Aerometric-filling Duofolds from the '50s and '60s. The largest model was the Maxima with its oversize Arrow nib, shown at bottom above; nearly as large was the Senior Duofold in the middle. The standard size Duofold at top is from the earlier rather than the later 1950s, and is noticeably thicker in proportions.

Other models of similar design included the Junior (above), the Lady, and the Slimfold (below).

Colors included black, blue, red, and the rather scarce green. All were equipped with conventional 14K gold nibs, many of which are wider and more flexible than their US-made contemporaries, though tending to have a softer (that is, less springy) feel. Early production Aerometric Duofolds have nibs marked with an "N", for Newhaven. Most, however, are numbered, with the number denoting the size (Lady, 4; Slimfold, 5; Junior, 10; Demi, 15; Senior, 35; and Maxima, 50). Some 1960s nibs bear a second, single-digit, number next to the size code, denoting the year of production.
---
---