The Parker family long had an interest in aviation and aerospace. The Parker 51 had been compared in advertisements to the P-51 Mustang, elsewhere being called "like a pen from another planet". In the wake of the moon missions of the late 1960s, Parker decided to make a pen of the consummate aerospace material, titanium. The result was the T1, released in 1970 and discontinued shortly thereafter.
Titanium is not an easy material to work, and Parker never managed to get production costs down to a reasonable level. It is probable that it was not just the reject rate that was excessive, but also the degree of wear and breakage to the tooling. Attaching tipping material to the integral titanium nib-shell was also very difficult, as nib repair specialists have come to appreciate when attempting to retip damaged T1s.
The value of T1s has been steadily increasing over the decades. Not made as a limited edition, but made in very limited numbers, T1s surviving in top condition are not easy to come by. Examples with original packaging are particularly scarce; the pen below rests on a nonproduction display stand designed to simulate the lunar surface.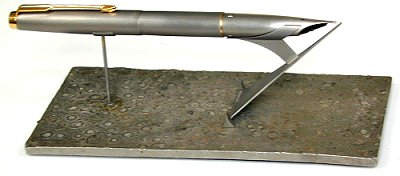 T1 fountain pens are the most desirable, but ballpoints were also offered. Two finishes are commonly seen, both with a brushed texture: one is quite dark, while the other, seen on the pens shown above, is a brighter, natural finish. Distinctive features include a nib adjustment screw on the underside of the shell and transparent red inserts at the end of the barrel and the top of the cap.
After the T1 fountain pen was discontinued, remaining stocks of titanium parts were used for ballpoints, cartridge pencils, and rollerballs which were incorporated into the Parker 75 line.