Waterman adopted its version of the lever-filling system, pioneered by Sheaffer, in 1915. The standard-sized pen, as seen above, carried a #2 nib and sported nickel silver trim; gold filled and even solid gold trim was also offered, and pens were sold with and without clips. Most commonly they are found in chased or smooth black hard rubber; red and black woodgrain, Ripple, and mottled hard rubber were also offered, as was plain red hard rubber (Cardinal).
Waterman hard rubber lever-fillers are handsome, solidly built pens with excellent nibs. Their design varied but little during a production run of some twenty years, and spare parts are readily available.
The most common Waterman lever-fillers are the 52, as seen above, and the 52 1/2V, shown below. Larger pens include the 54 (basically, a 52 with a larger nib), 55, 56, and 58; the last numeral denotes the nib size, and hence the size of the pen itself. The suffix "V" indicates a short pen; "1/2", a slender. The earliest Waterman lever fillers used a different number code adapted from the eyedropper series, followed by "PSF"
More on the Waterman numbering system
---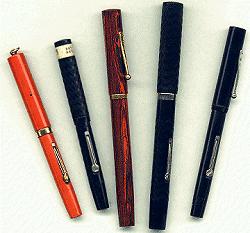 From left to right: 52 1/2V ribbon-ring pen, Cardinal; 52 1/2V vest pocket model in black chased hard rubber, with original price band; 52 woodgrain, gold filled trim; 55 clipless in black chased hard rubber, nickel silver trim; 52 1/2 in smooth black hard rubber.