Please note that not all the items listed below are both mint and boxed: some are mint and unboxed, others are boxed but not mint, and there may also be items that are new old stock but in less than perfectly pristine condition. More on our condition scale here.
---
10726: unmarked glass dip pen: hollow clear golden brown handle, clear twisted nib, about 17 cm long, hand-made; part of a hoard found in central Europe, several available.
DATE: c. 1905 • CONDITION: mint • NIB: fine • $25

---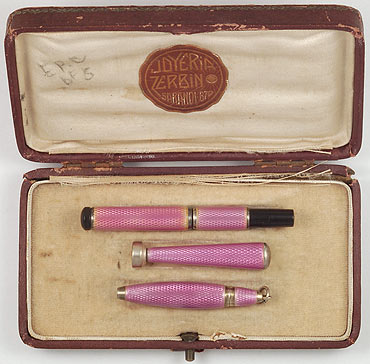 10895: unmarked miniature safety set in box: beautiful ensemble, German manufacture, purple transparent enamel over silver. Black hard rubber safety pen is 7.2 cm long, fully functional, and appears never to have been used (we have replaced its cork seal and repaired a small crack in the internal spiral). The magic pencil is 5.25 cm long and bears an 835 silver content stamp on its ring; shaft and nozzle are gold-plated, and it uses standard 1.1 mm lead. The enamel is intact on pen and pencil, but is damaged on one side of the matching wax seal (see detail). Box is marked "Joyeria Zerbino", a retailer in Montevideo.
DATE: c. 1920 • CONDITION: exc* • NIB: fine • $825

---
More mint and boxed items: A to C - D to O - P to Z
---
---
---