Please note that not all the items listed below are both mint and boxed: some are mint and unboxed, others are boxed but not mint, and there may also be items that are new old stock but in less than perfectly pristine condition. More on our condition scale here.
---
11383: American Fountain Pen Co. Moore's Non-Leakable in box: smooth black hard rubber retracting-nib safety, 14.4 cm long, crisp and glossy, long-tined American-marked #2 nib writes an elegantly shaded line. With original paper band on cap noting that the pen was sold already filled, instructions, and lower half of original box. Has not had barrel seal replaced, not guaranteed ink-tight.
DATE: c. 1914 • CONDITION: near mint • NIB: extra-fine flex • $350

---
12337: American Pencil Co. giant "The Twins" dip pen and pencil set in box: wood with swirl-pattern lacquer finish, pen is 25.5 cm long excluding steel "Midget" falcon nib, octagonal "Whoopee" pencil is a real pencil, with thick lead all the way through. Usual age cracquelure to finish, box split at one end, as new with just age and storage wear.
DATE: c. 1925 • CONDITION: exc • $165

---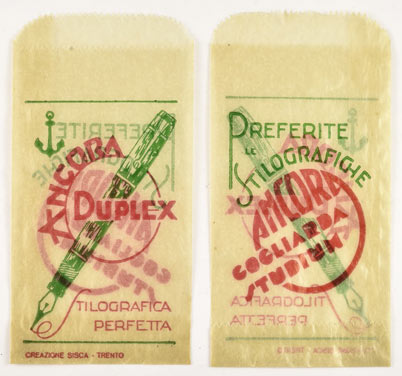 4251: Ancora glassine envelope: advertising for Duplex pens, 5 x 9.5 cm, printed on both sides, new old stock.
DATE: c. 1938 • CONDITION: mint • $10

---
12620: Aurora Dante Alighieri: desirable limited edition, only 1919 made, 13.4 cm long, dark green with gold trim, 18K nib; no sign of having been filled or used, a one-owner pen, but lacking original box and packaging.
DATE: 1995 • CONDITION: mint • NIB: medium • $1200

---
7815: Conklin 40P: black chased hard rubber flat-top vest-pocket crescent-filler, 11.25 cm long, gold filled trim, unusual single narrow cap band, has a #5 nib though should carry a #4; new old stock with price band, has not been resacked or otherwise restored, hard rubber crisp but sun-faded, pen appears to have been dipped, light scratch marks at end of barrel.
DATE: c. 1924 • CONDITION: exc-near mint* • NIB: extra-fine semiflex • $350

---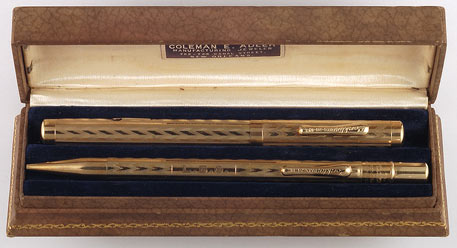 11699: Conklin lever-filler set in box: gold filled "all-metal" pen, chevron pattern engine turning, 12.4 cm long, #3 nib, matching pencil uses 1.1 mm lead, both engraved with monogram "L. B. G." but otherwise as new, box virtually perfect as well with New Orleans retailer label.
DATE: c. 1925 • CONDITION: near mint • NIB: fine semiflex • $400

---
10946: Conklin Nozac: rare vest pocket size piston-filler, 11.4 cm long, black with gold filled trim, original price sticker, perfect barrel transparency with herringbone pattern; mechanism in excellent working order, original piston seal has not been replaced and is probably not ink tight.
DATE: c. 1932 • CONDITION: mint* • NIB: extra-fine flex • $650

---
7659: Cross stylographic pen: black chased hard rubber eyedropper-filler, 11.9 cm long, thick model with unusual chased cap; crisp and glossy, bold section imprint without patent date, has been converted to a scribing tool -- probably as a means to recycle unused but obsolete old stock (not usable as a pen).
DATE: c. 1885 • CONDITION: mint* • $125

---
More mint and boxed items: D to O - P to Z - unmarked
---
---
---