10903: Waterman 402: slender black hard rubber straight cap eyedropper-filler, sterling silver overlay in fine barleycorn pattern, full London hallmarks with date letter for 1904/5; 14.35 cm long, Waterman globe logo on posting end nice and legible, "Eva" engraved in barrel cartouche. Patent date imprint on narrow spoon feed, unusual nib with very wide factory italic tip.
DATE: c. 1904 • CONDITION: fine • NIB: broad italic • $1100

---

6130: Waterman 14: black hard rubber eyedropper-filler with fluted gold filled overlay and bloodstone cap top seal; 13.3 cm long, a rare but fully catalogued factory model most often found in France and England (a version appears on p. 53 of Waterman's 1908 USA catalog under "Special Mountings" as Emerald End Special Fluted, priced at $50 -- more than three times the cost of a full sterling silver Snake); French hallmarks, no dings, but one small test mark on the seal bezel, imprints on posting end worn but mostly legible; toothy #4 New York nib, spoon feed with patent date imprints.
DATE: c. 1908 • CONDITION: VG-fine • NIB: extra-fine flex • $2650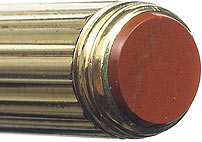 ---
11573: Waterman 432: rare short version, black hard rubber eyedropper-filler with sterling silver London-hallmarked barleycorn overlay, 11.1 cm long; no model number stamp on end, as is typical of British-market Watermans. Feed with patent imprints, long internal tail, notable nib with massive tip.
DATE: c. 1917 • CONDITION: fine • NIB: extra-broad stub flex • $950

---
11442: Waterman 42½: black hard rubber French-market clipless safety with sterling silver overlay; 12.65 cm long, fully marked, initials "G. F." on barrel, elegant engine turning, only a few pinprick marks (not to be confused with the small French hallmarks) . 18K gold #2 nib is a very smooth writer.
DATE: c. 1920 • CONDITION: fine-exc • NIB: fine flex • $800

---
10712: Waterman 52: black hard rubber lever-filler, sterling silver overlay, 11.4 cm long, a three-quarter length French-market model with covered barrel end and no model number imprint, the engine turning pattern similar to the USA "Gothic", but different. Full French hallmarks, 18K gold nib is responsive and slightly toothy, some shallow bumps to the barrel overlay (see details), lever is nickel silver rather than sterling (appears to be original, as plate under lever end is matching).
DATE: c. 1928 • CONDITION: fine • NIB: extra-fine flex • $600

---
12598: Waterman JiF four-color pencil: chrome plated brass, 13.7 cm long, uses 1.1 mm lead; new old stock, no packaging; French-made for the French market, very solid construction, from a long-established Paris pen shop.
DATE: c. 1948 • CONDITION: near mint • $150

---
---
---